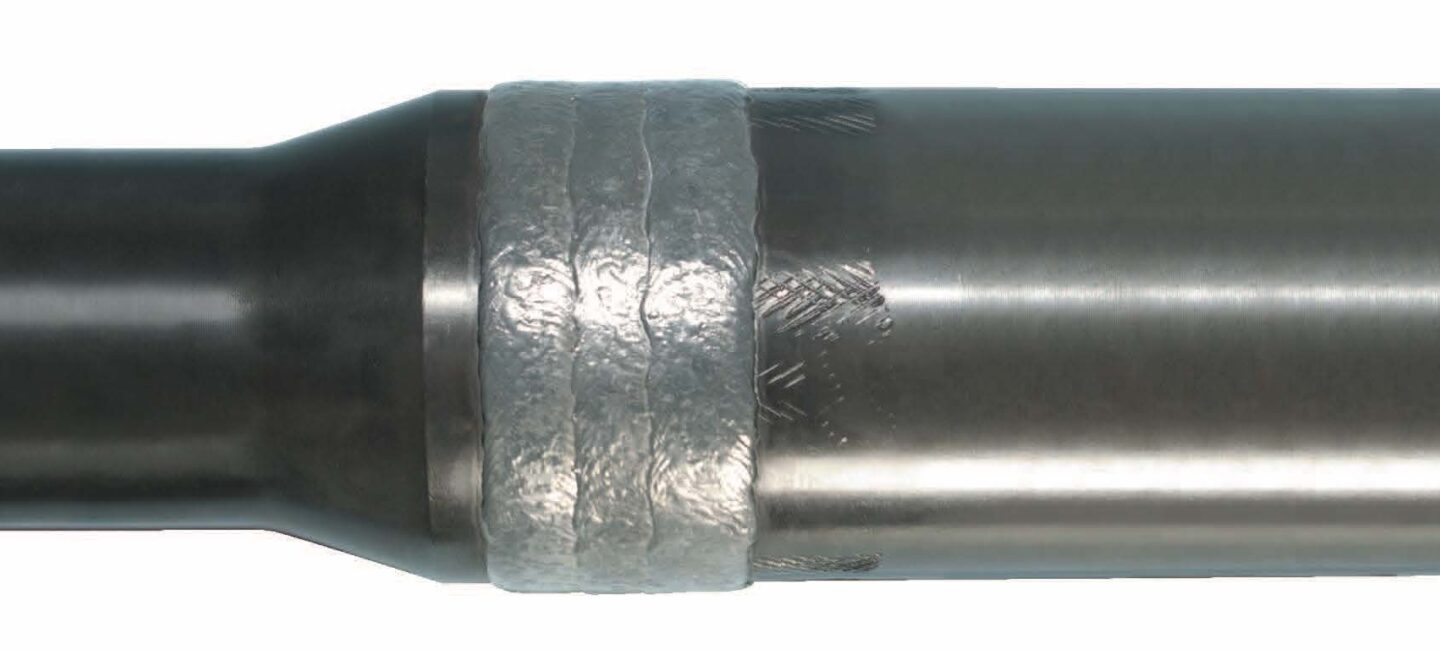 Duraband NC Essentials

One Hardband Wire For All Conditions
Hardbanding has been protecting the drill string and casing for decades. Modern drilling methods put more strain on drilling tools and make it even more essential to choose the correct material to apply to the tool joint. To date Duraband has been applied to more than 3 million tool joints, and has stood out above all others for safe, reliable, and cost-effective protection for the life of the drill string. Evidenced by use in thousands of drilling projects worldwide and backed by third party laboratory testing including NS-1™ approval since 2008, Duraband NC is the worlds most trusted hardbanding.
The essentials of effective hardbanding
Our goal is to achieve long lasting casing friendly hardbanding that never cracks, that never has to be removed, and that can be reapplied with ease for the most cost-effective protection.
There are 4 essentials that should be a priority to ensure these goals are realised. We strongly recommend drill string owners, and their clients, consider each of these points before accepting any hardbanding material.
"We have applied Duraband NC with our Skye hardbanding units to protect more than 250,000 tool joints so far....and we have never received a single complaint."

Director of Purchasing, Drill Pipe Manufacturer
1. Wear Resistance
Duraband is designed to protect your assets from extreme wear. Through a combination of laboratory testing and field data the facts are clear. Duraband cannot be beaten on drill string protection.
Laboratory testing
Duraband consistently provides excellent results in ASTM G65-A wear testing.
Field Experience
Duraband regularly performs better than competitive products. Wear on the hardbanding during downhole drilling activity is seldom limited to pure abrasion. Impact, sideload pressure, heat-checking, will all contribute to accelerated wear. The metallurgy of Duraband NC is perfectly balanced to resist all types of wear.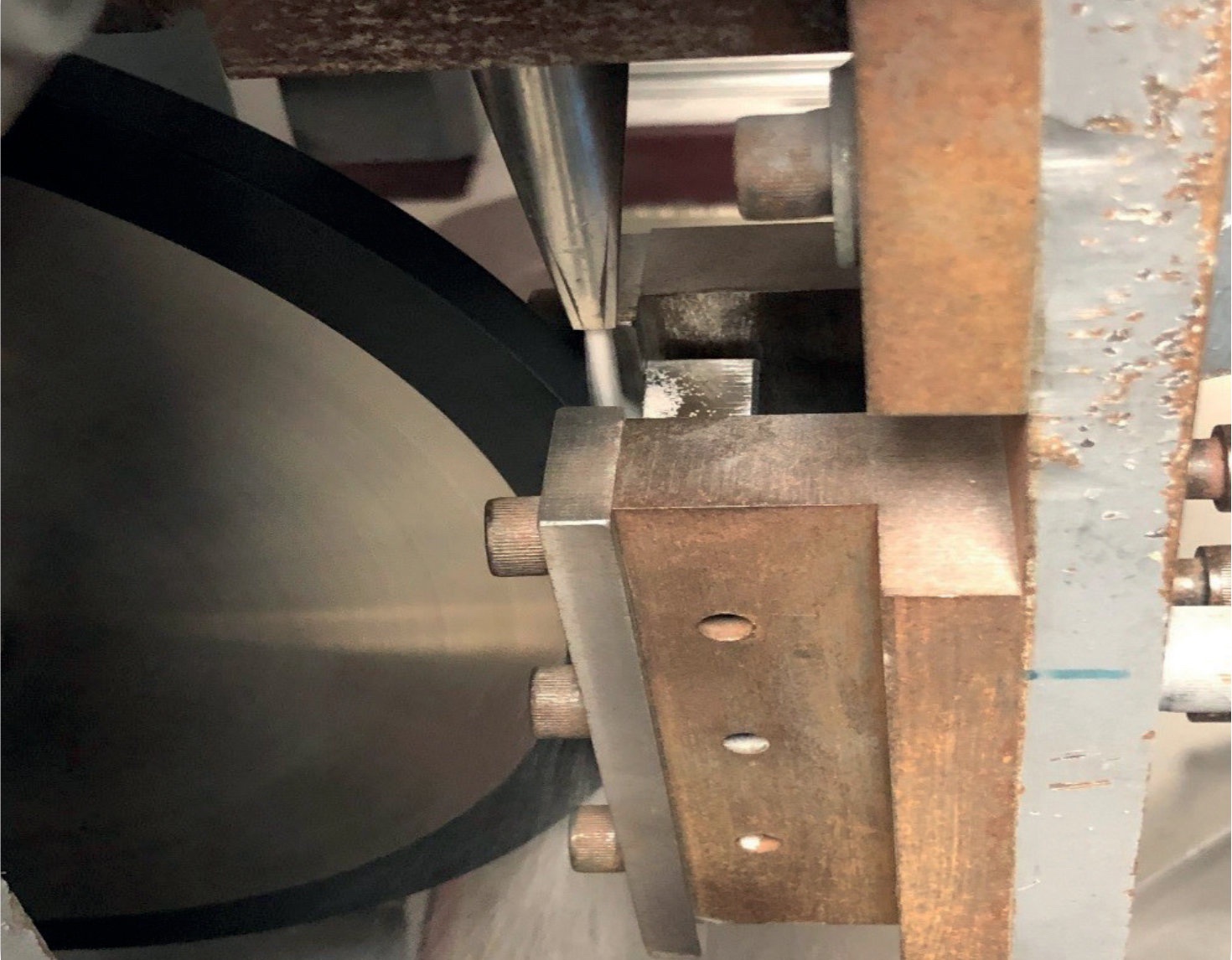 2. Casing Protection
Duraband NC is NS-1™ approved by Fearnley Procter. We submit Duraband NC to API SPEC. 7CW testing at Stress Engineering.
Casing wear testing has evolved in recent years, and there are several tests which differ according to casing type, mud type, and the side-force applied.
Duraband provides proven, superior casing protection through low friction, averaging around 50% less wear on casing compared to a tool joint without hardbanding. Casing wear figures under various test conditions can be provided upon request.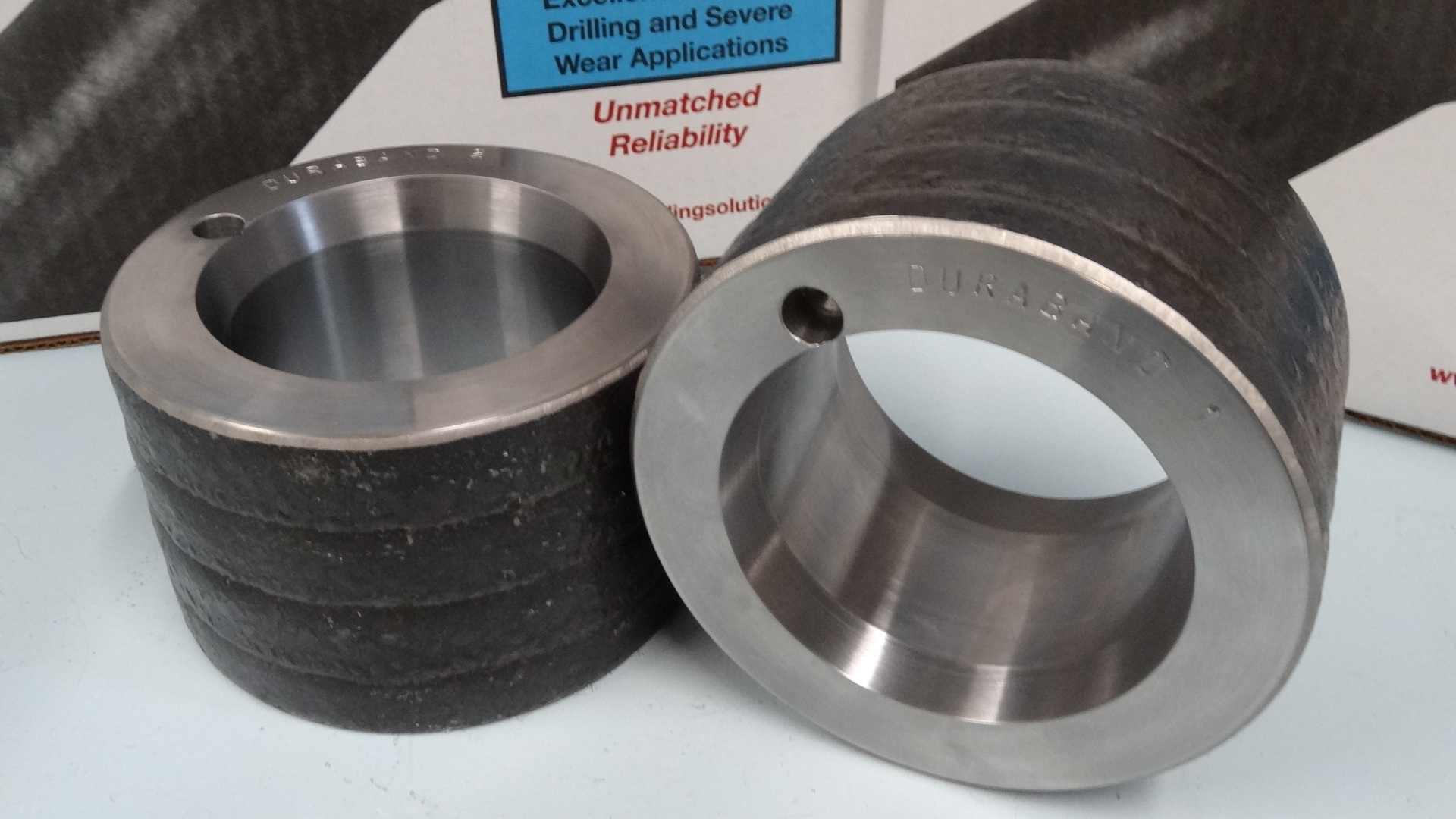 Duraband prepared for the casing wear test
3. Reliability & Ease of Reapplication
Probably the most crucial aspect of cost-effective hardbanding is the reliability of the product applied, and its ability to be reapplied easily and economically. Since its launch in 2007, the metallurgy of Duraband has never changed, and remains perfectly compatible with the tool joint chemistry. This means the casing wear protection data and ease of application have also never changed.
Duraband NC has been NS-1 approved for re-application over itself and other products for more than a decade and has never lost its accreditation.
There are a range of hardbanding wires on the market today that vary widely in terms of metallurgy and performance.The chemistry of each product defines longevity and casing protection. It also determines how susceptible thehardband will be to cracks, spalling, and other defects, all of which result in expensive removal and repair.
Duraband NC has an exceptional record of defect-free reliability after the first and multiple reapplications.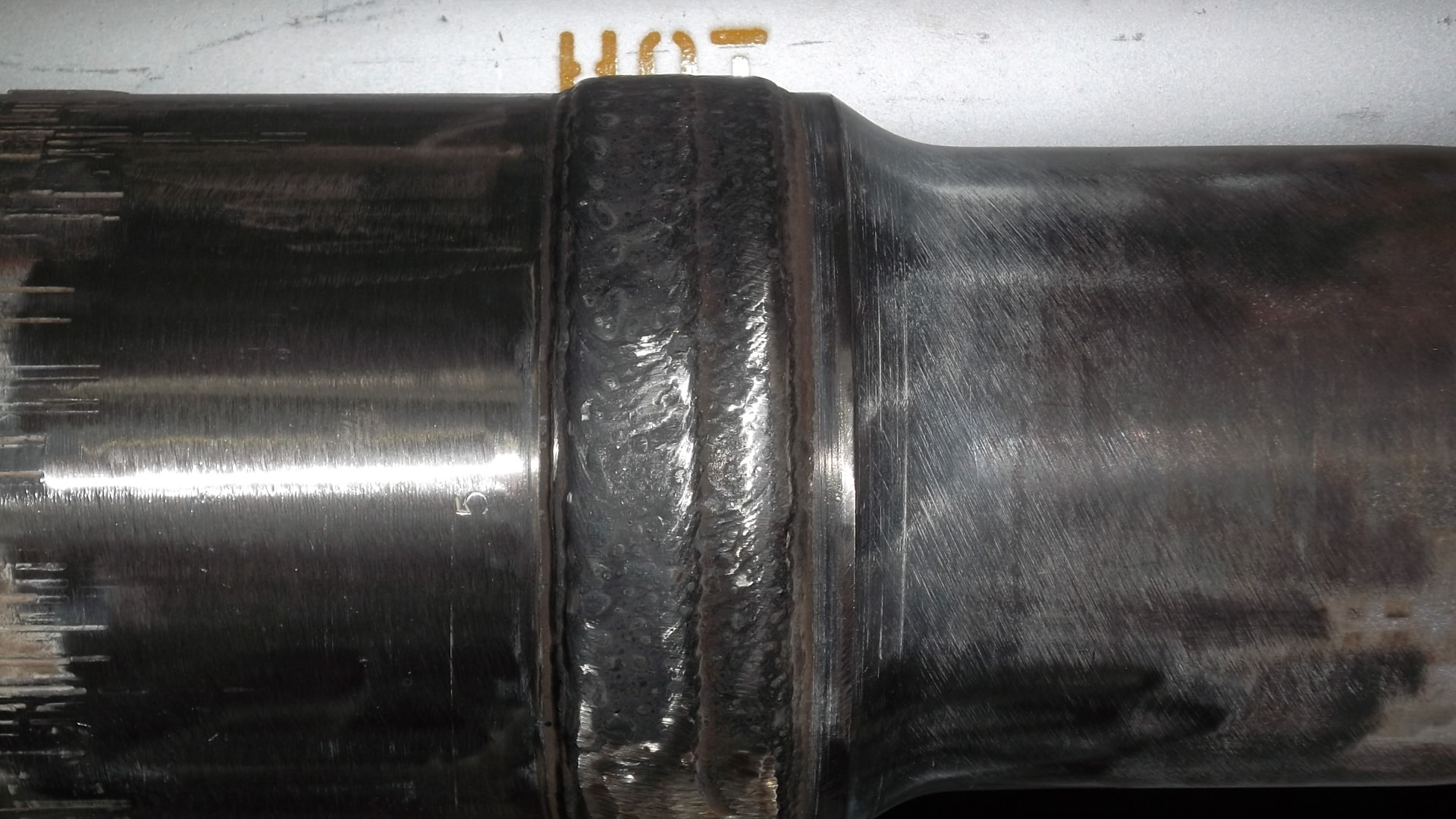 Duraband applied to a pin tool joint
4. Availability and Local Technical Support
Duraband is available from every major drill pipe manufacturer across the world. Hardbanding Solutions have the largest team of qualified technical support professionals in our industry, located close to every major drilling region around the globe. Our group work tirelessly to provide immediate assistance to our 200+ network of licensed Duraband applicators.
Similarly, drill pipe owners, rental companies, and oil and gas operators also have the opportunity to consult on drill pipe repairs and casing protection to get the most up to date and accurate advice for their particular needs. Hardbanding Solutions offer a series of technical presentations, free of charge.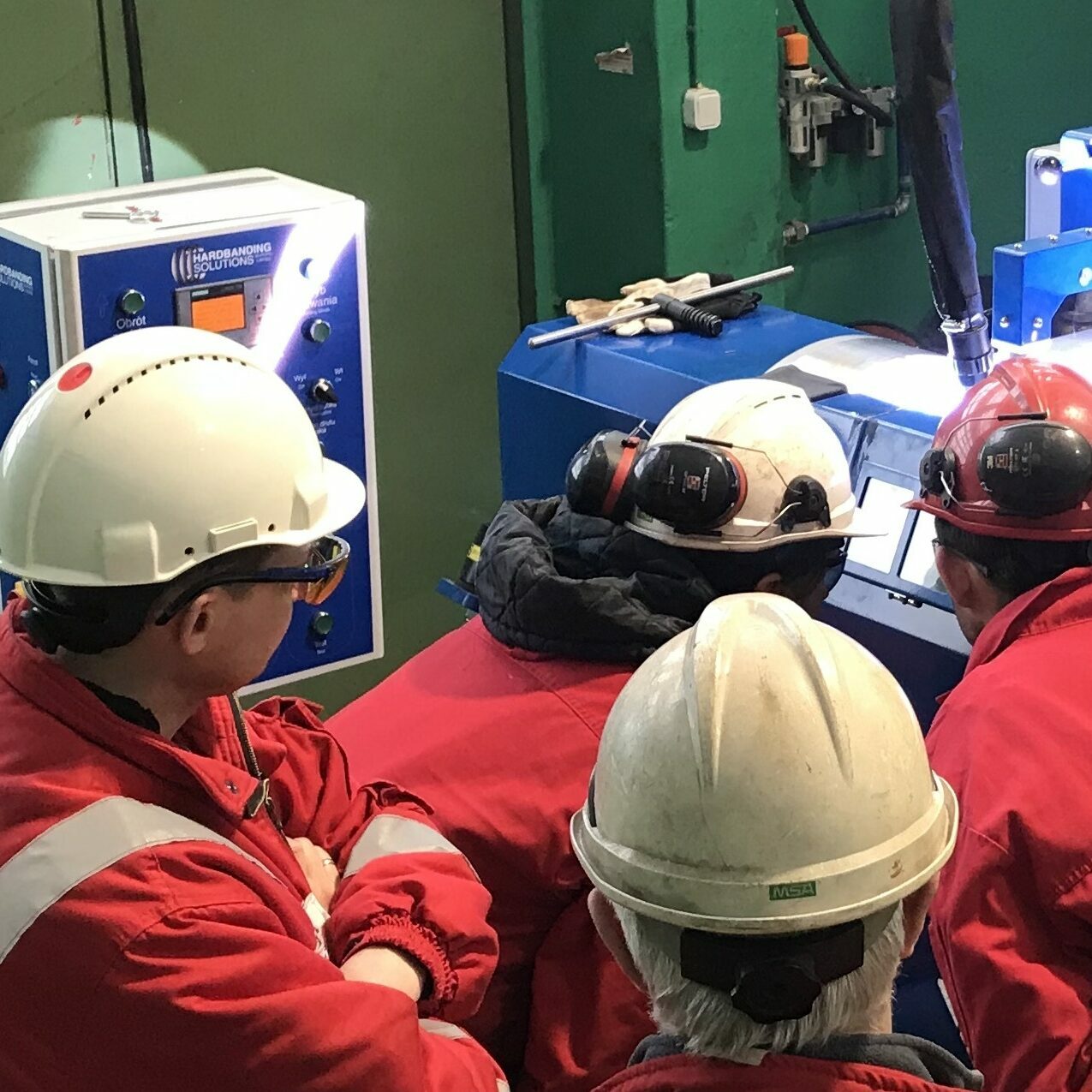 Hardbanding Solutions provide training in every drilling region
"I would like to personally thank Postle Industries for Duraband Hardbanding.

When I first entered the North American unconventional shale market in 2004 (Barnette Shale), we were using a product called xxx. It was OK when applied on new assets however its cracking nature made re-application very difficult.

We have been ordering new assets with Duraband for over 10 years and re-applying in field has been problem free. In addition to a very user friendly wire, the support from Postle Industries with Duraband has been a huge part of our success in field reapplications. Training and certifying applicators as well as responsive field support anytime we have called on your team.

I recommend Duraband as the first choice in hardband to anyone that asks. Again, thank you for the great years of problem free service and quality support!"

Vice President, Drill Pipe Rental Company, USA.
To download the Duraband NC data sheet, click here