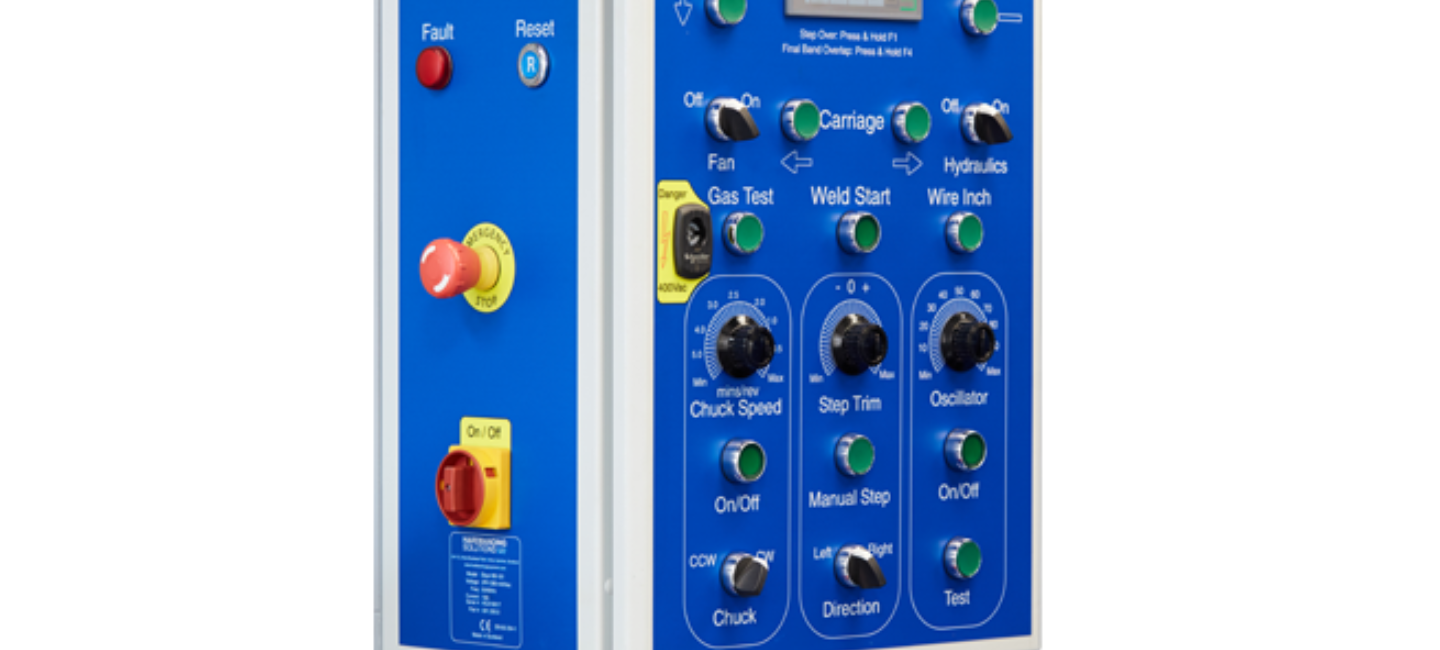 Winning Features
Features
Quality
Our units are built to last. We deliberately build our products with over-specified main components, manufactured in either the EU or USA, to make sure you receive a reliable and long-term return on your investment.
Usability
Offering both automatic and manual units, our machines are simple to operate, without the need for additional hand tools. Requiring minimal effort and input from the operator, our products are a cost effective option, saving oil and gas service companies valuable time.
Safety
Like any welding process, hardbanding can present safety concerns. However our machines incorporate industry-leading health and safety features, making us the supplier of choice for health and safety conscious organisations.
Some of Our Products' Winning Features
Torch Positioning System
Getting the correct welding torch position for hardbanding can make the difference between a good looking application within customer specification, and a poor application with humped or concave bands, excessive spatter and wavy edges. Normally, positioning the off-set from centre, the angle and the height of the welding torch is a long, trial and error task which frustrates hardbanders worldwide.
We've made this easy with our unique torch positioning system. You only need one quick adjustment of height to match the size of tool joint to be welded, and then you're ready to weld the perfect bands. It's quick, simple and spot on. Every single time.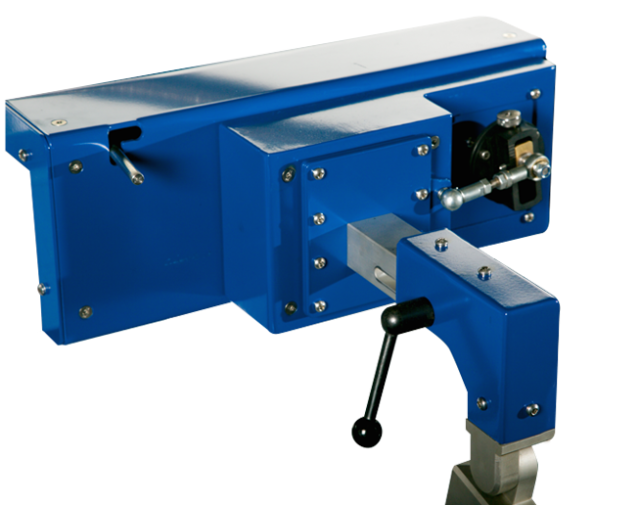 PLC Control System – 1 Button Welding
Incorporating a programmable logic controller, our control system offers you perfection at the touch of a button – once welding and torch positioning parameters are set, the operator simply has to select the number of bands required and press the Weld button to run the programme. That's it. Chuck rotation, torch oscillation and the welding begin, giving a flawless start to your application.
Our PLC control system has many 'industry first' features including:
Automatic chuck positioning to 'home'
'Incremental overlap' – the start/stop of each band is staggered to avoid overlaps in a straight line which can lead to cracks
Feedback from the PLC screen, which counts actual chuck rotation speed, and reports which band is currently being welded, plus actual weld time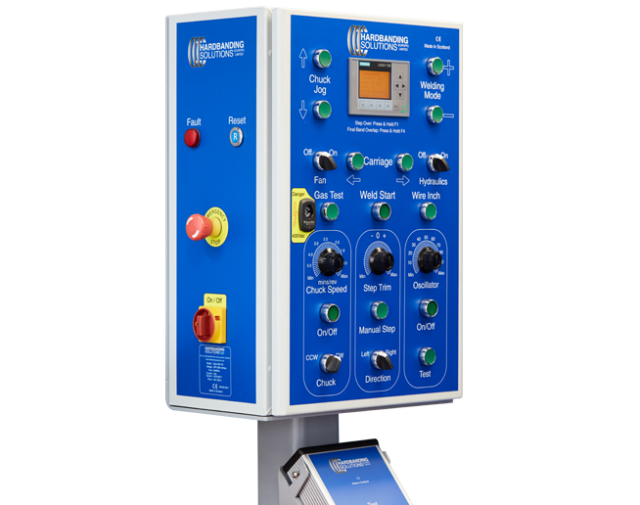 Oscillation
Our oscillation is strong and reliable, and its width can easily be changed with a quick thumb wheel to measured increments. This gives you the correct bandwidth every time, without having to waste precious minutes manually measuring the covered distance with a ruler.
What you won't see with our oscillation is a pendulum style movement. We've created an efficient, stable and linear motion which results in a perfectly straight band, every time, and is capable of 0 – 100 oscillations per minute.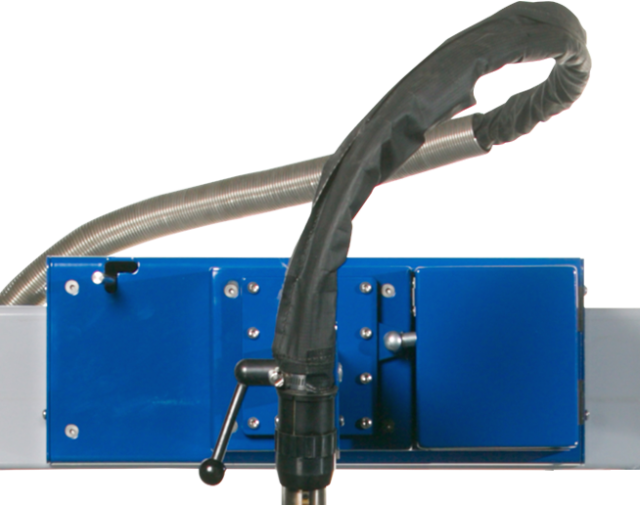 Automatic Weld Head Carriage
Designed once again with time-saving, simplicity in mind, our automatic carriage lets you position the welding torch to your starting point, move from one band to the next and put the torch in a safe position for loading a new tool joint, all from the control panel.
With the capability to move at speeds between 0.6mm – 20mm per second, this carriage is made to survive. We designed it to withstand a direct hit from a drill pipe, with a newly developed motor aligning and decoupling system. We also included limit sensors on each end of the beam, to stop the carriage from over-running.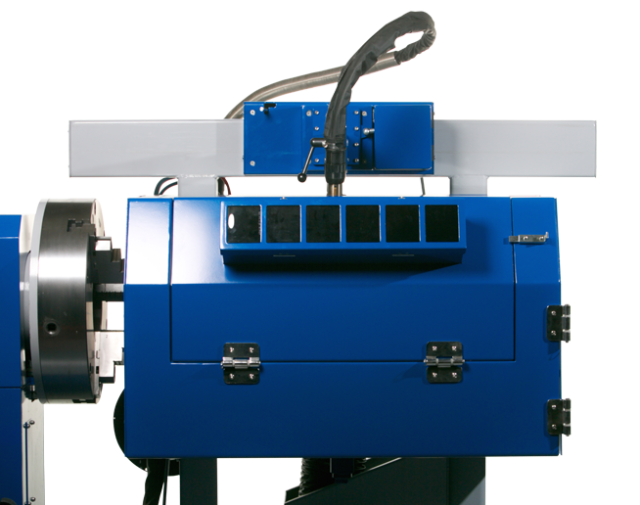 Headstock
The robust three jaw chuck is made to order in the UK especially for Hardbanding Solutions. Other machines on the market set the chuck speed to a factor, with the actual chuck speed requiring to be timed with a stop watch. However we set our chuck speed to minutes and seconds, so changing it for varying diameters of tool joint is fast and simple. It will turn at speeds from 0.2 rpm to 2 rpm as standard. If you need it higher, we can do that on request.
Fume Extraction System
Welding fumes are dangerous and can cause a number of illnesses. These fumes should be removed from the working environment to protect operators. However, other hardbanding equipment manufacturers have never managed to successfully do this. It's because they reduce the power of the extraction fans to stop them interfering with the flow of essential welding gas from the torch, which would result in poor application of hardbanding. This means a significant percentage of fume is not caught by the extraction system and ends up in the atmosphere, being breathed in by the operators.
We've solved this problem by designing our hardbanding unit with a unique system of low and high pressure fume extraction, directed through carefully positioned vents. In factory conditions, this will remove almost all welding fume without disturbing gas flow at the welding torch. You can see this demonstrated in our video.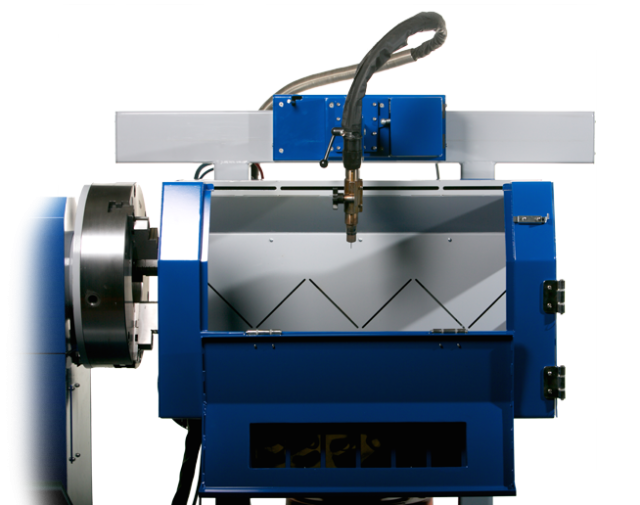 Intelligent Application
With Skye you can choose exactly how your weld looks.  With both cosmetic and practical benefits, it's easy to set your machine to apply with these special features:
Incremental Step-over - Move step over points around the circumference to prevent stress risers that can occur when they are in a row.
Linear Step-over - The chuck stops as the torch steps over and then starts again to create these straight line step overs.
Incremental Linear Step-over - Combine these features for a great finish to your work.

To learn about how we support you with Skye, please click below.